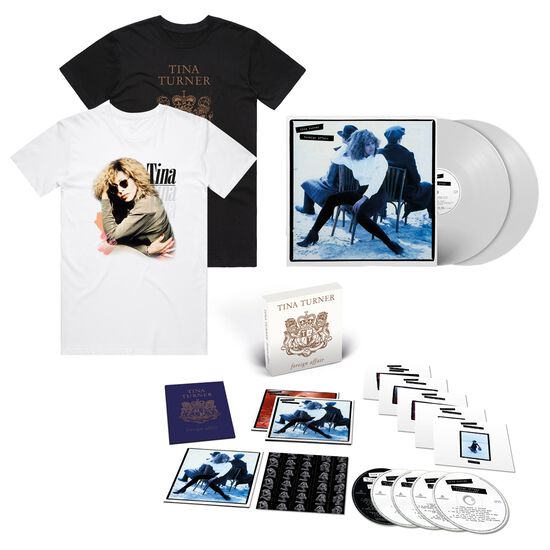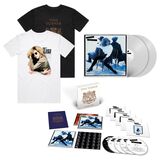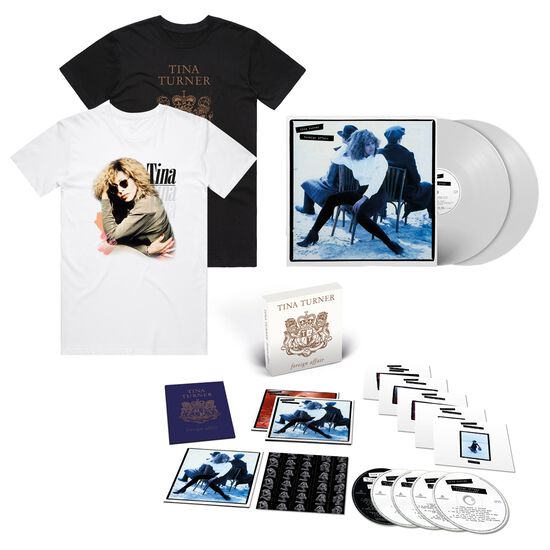 Tina Turner
Foreign Affair 2LP White + Deluxe Edition + T-Shirt
Pre-order included
Availability:
Select Styles for Availability
This bundle contains the Foreign Affair 2LP White – exclusive to this store – plus the Foreign Affair Deluxe Edition box and your choice of t-shirt.
Exclusive white 2LP version of Tina Turner's classic album Foreign Affair, fully remastered for the first time.
Limited deluxe edition of Tina Turner's classic album Foreign Affair, featuring 4CDs, a DVD, a special, commemorative passport, booklet, and art card.
FOREIGN AFFAIR was Tina's third studio album since her dramatic global resurgence, following the monumental success of PRIVATE DANCER (1984) and BREAK EVERY RULE (1986), as well as her lead role in Mad Max Beyond Thunderdome in 1985. It went on to be a multi-platinum record across the world, including UK, Germany, Switzerland, Canada, Australia and many more. The biggest track to come from the album was the 80s anthem, "The Best." The track continues to transcend generations, with one of the most recognizable choruses in music history. On top of "The Best," the album is complimented by several Tina favorites such as "Steamy Windows," "I Don't Wanna Lose You" and the title track "Foreign Affair."
Your Choice Of T-Shirt:
The Foreign Affair Passport T-Shirt features the passport emblem from the Foreign Affair (Deluxe Edition) box.
The Foreign Affair T-Shirt features the photo from the Look Me In The Heart single taken by Paul Cox.
2LP White
LP1 - Side One
1. Steamy Windows
2. The Best
3. You Know Who (Is Doing You Know What)
LP1 – Side Two
1. Undercover Agent for the Blues
2. Look Me in the Heart
3. Be Tender with Me Baby
LP2 – Side One:
1. You Can't Stop Me Loving You
2. Ask Me How I Feel
3. Falling Like Rain
LP2 – Side Two:
1. I Don't Wanna Lose You
2. Not Enough Romance
3. Foreign Affair
Deluxe Edition
CD1 – 2021 Album Remaster
1. Steamy Windows
2. The Best
3. You Know Who (Is Doing You Know What)
4. Undercover Agent for the Blues
5. Look Me in the Heart
6. Be Tender with Me Baby
7. You Can't Stop Me Loving You
8. Ask Me How I Feel
9. Falling Like Rain
10. I Don't Wanna Lose You
11. Not Enough Romance
12. Foreign Affair
CD2 – B-Sides, Remixes & Unreleased Demo
B-Sides
1. Bold And Reckless
2. Stronger Than The Wind
3. Steel Claw (Live)
4. Private Dancer (Live)
5. Be Tender With Me Baby (Live)
Remixes
6. The Best (Extended Muscle Mix)
7. Steamy Windows (12" Vocal Mix)
8. Foreign Affair (Shep Pettibone Heartbeat Mix)
9. Look Me In The Heart (12" Remix)
10. The Best (Extended Mighty Mix)
11. Steamy Windows (Justin Strauss 12" House Dub Mix)
12. Foreign Affair (Shep Pettibone One In A Million Club Mix)
13. Steamy Windows (12" Dub Mix)
14. Look Me In The Heart (Instrumental)
15. Foreign Affair (Shep Pettibone Heartbeat Instrumental)
Previously Unreleased
16. The Best (Demo)
CD3 'Do You Want Some Action?' Live in Barcelona 1990
1. Steamy Windows
2. Typical Male
3. Foreign Affair
4. Undercover Agent for the Blues
5. Ask Me How I Feel
6. We Don't Need Another Hero
7. Private Dancer
8. Nutbush City Limits
9. Addicted to Love
CD4 'Do You Want Some Action?' Live in Barcelona 1990
1. The Best
2. I Don't Wanna Lose You
3. What's Love Got to Do With It
4. Let's Stay Together
5. Proud Mary
6. Better Be Good to Me
7. Be Tender With Me Baby
DVD 'Do You Want Some Action?' Live in Barcelona 1990 & Promo Videos
"Do You Want Some Action?" Live in Barcelona 1990
1. Steamy Windows
2. Typical Male
3. Foreign Affair
4. Undercover Agent for the Blues
5. Ask Me How I Feel
6. We Don't Need Another Hero
7. Private Dancer
8. Nutbush City Limits
9. Addicted to Love
10. The Best
11. I Don't Wanna Lose You
12. What's Love Got to Do With It
13. Let's Stay Together
14. Proud Mary
15. Better Be Good to Me
16. Be Tender With Me Baby
Remastered Promo Videos Included on DVD only
1. Foreign Affair
2. Look Me in the Heart
3. The Best
4. Steamy Windows
5. Be Tender With Me Baby
6. I Don't Wanna Lose You