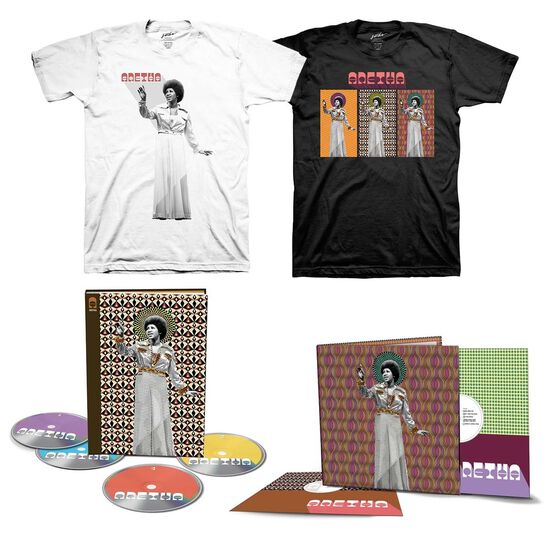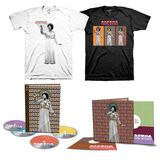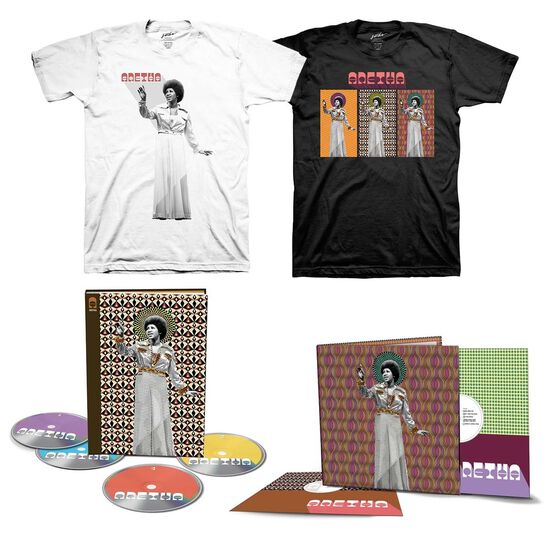 Rhino Merch
ARETHA Deluxe/2LP/T-Shirt
Pre-order included
Availability:
Select Styles for Availability
This bundle includes the ARETHA 4CD set, the ARETHA 2LP set, and your CHOICE of the ICON or TRYPTIC t-shirt.
MUSIC DETAILS
4CD SET
To say that Aretha Franklin was one of the greatest American artists of all time is an understatement. Her multi-octave voice moved millions around the world during an unrivaled career that spanned six decades and garnered the singer-songwriter every achievement and honor imaginable. Her reign as the Queen of Soul will play out across four discs on a new boxed set from Rhino that is the first to span her entire career, including songs from every label she recorded with.
Among the collection's 81 newly remastered tracks, 19 are making their CD and digital debuts, including alternate versions of classic hits, demos, rarities, and live tracks, like her stunning performance of "(You Make Me Feel) Like A Natural Woman" at The 38th Annual Kennedy Center Honors in 2015. To put Franklin's life and career into perspective, the collection is accompanied by liner notes written by Rochelle Riley, author and director of arts and culture for the City of Detroit, and David Nathan, a music journalist and soul historian who interviewed Franklin more times than any other living writer. The collection also features stunning artwork by celebrated artist Makeba KEEBS Rainey, who provides her signature style to a photo of the Queen Of Soul taken by the legendary photographer, Neal Preston. Rhino's new boxed set will arrive shortly before the premiere of Respect, the highly anticipated biopic about Franklin's life starring Jennifer Hudson.
2LP
20 highlights from the Queen of Soul's 4CD set including previously unreleased tracks "Call Me" – Alternate Version, "Until You Come Back To Me" – Work Tape, "You Light Up My Life", and "(You Make Me Feel Like) A Natural Woman" – Live, which was originally broadcast on The 38th Annual Kennedy Center Honors on 12/19/15.
MERCH DETAILS
The collection features artwork by celebrated artist Makeba KEEBS Rainey, who provides her signature style to a photo of the Queen of Soul taken by Neal Preston. Preston took the photo of Aretha during an appearance on Soul Train in 1973. The statuesque Franklin is powerful, its selection as a cover inevitable. We are offering these designs on a variety of blanks as a pre order. Printed on 100% cotton product in the United States & traditionally silk screened. For all Aretha fans!