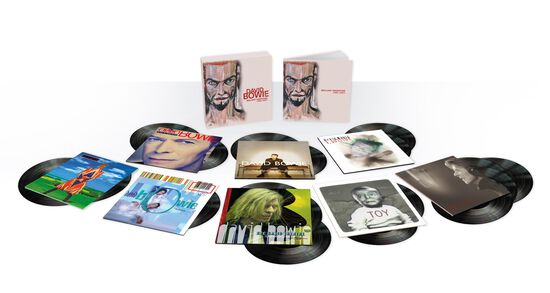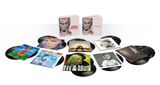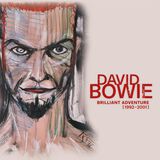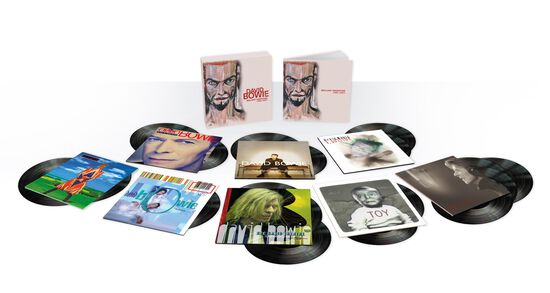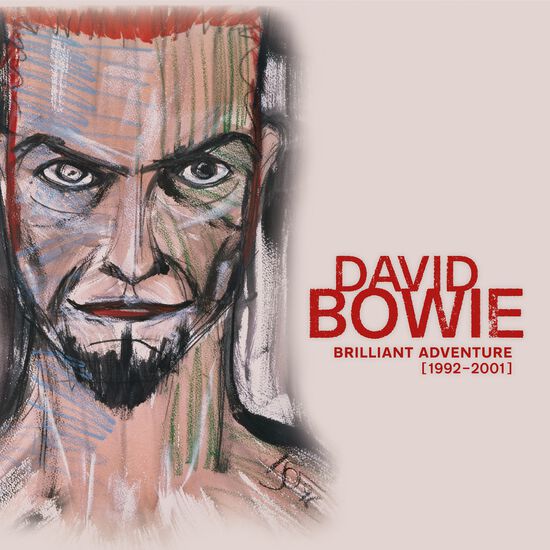 David Bowie
Brilliant Adventure (1992 – 2001)(LP)
Price reduced from

$399.98

to
$239.99
The latest in an award-winning and critically acclaimed series of box sets including DAVID BOWIE 1. FIVE YEARS (1969 – 1973), DAVID BOWIE 2. WHO CAN I BE NOW? (1974 – 1976), DAVID BOWIE 3. A NEW CAREER IN A NEW TOWN (1977 – 1982) and DAVID BOWIE 4. LOVING THE ALIEN (1983-1988), DAVID BOWIE 5. BRILLIANT ADVENTURE (1992 – 2001) is an eleven CD box, eighteen-piece vinyl set and standard digital download box set. The collection is named after the Koto led instrumental penultimate track from the 'hours...' album. The box sets include newly remastered versions, with input from the original producers and collaborators, of some of Bowie's most underrated and experimental material: BLACK TIE WHITE NOISE, THE BUDDHA OF SUBURBIA (available on vinyl for the first time in nearly 30 years), 1.OUTSIDE, EARTHLING and 'hours…' along with the expanded live album BBC RADIO THEATRE, LONDON, JUNE 27, 2000, the non-album / alternative version / B-sides and soundtrack music compilation RE:CALL 5 and the legendary previously unreleased TOY.
TOY was recorded following David's triumphant Glastonbury 2000 performance. Bowie entered the studio with his band, Mark Plati, Sterling Campbell, Gail Ann Dorsey, Earl Slick, Mike Garson, Holly Palmer and Emm Gryner, to record new interpretations of songs he'd first recorded from 1964-1971. David planned to record the album 'old school' with the band playing live, choose the best takes and then release it as soon as humanly possible in a remarkably prescient manner. Unfortunately, in 2001 the concept of the 'surprise drop' album release and the technology to support it were still quite a few years off, making it impossible to release TOY, as the album was now named, out to fans as instantly as David wanted. In the interim, David did what he did best; he moved on to something new, which began with a handful of new songs from the same sessions and ultimately became the album HEATHEN, released in 2002 and now acknowledged as one of his finest moments.
Now twenty years after its originally planned release, David's co-producer Mark Plati says, ""Toy is like a moment in time captured in an amber of joy, fire and energy. It's the sound of people happy to be playing music. David revisited and re-examined his work from decades prior through prisms of experience and fresh perspective - a parallel not lost on me as I now revisit it twenty years later. From time to time, he used to say 'Mark, this is our album' - I think because he knew I was so deeply in the trenches with him on that journey. I'm happy to finally be able to say it now belongs to all of us."
Exclusive to DAVID BOWIE 5. BRILLIANT ADVENTURE (1992 – 2001) box set are BBC RADIO THEATRE, LONDON, JUNE 27, 2000 and RE:CALL 5. The former was recorded two days after the famous Glastonbury performance in front of 500 lucky fans at the BBC's art deco theatre in central London. Selections from the show were available as the third CD in a very limited 3CD edition of BOWIE AT THE BEEB in September 2000 but the full concert has never before been available on vinyl. RE:CALL 5 features 39 non-album / alternative version / b-sides and soundtrack songs over 3CDs and 4LPs.
The physical box set's accompanying book, 84 pages in the CD box and 128 in the vinyl set, will feature rarely seen and previously unpublished photos by photographers including Frank W. Ockenfels 3, Nick Knight, John Scarisbrick and Nina Schultz Terner and others, as well as memorabilia, technical notes about the albums from producers/engineers Brian Eno, Nile Rodgers, Reeves Gabrels and Mark Plati as well as a new an interview with THE BUDDHA OF SUBURBIA collaborator Erdal Kizilçay.
The CD box set will include faithfully reproduced mini-vinyl versions of the original albums where applicable, and the CDs will be gold coloured rather than the usual silver. The vinyl box set has the same content as the CD set and is pressed on audiophile quality 180g vinyl.
LP Box Set:
84 Page hardback book
Black Tie White Noise (remastered) (2LP)
The Buddha Of Suburbia (a very limited release on vinyl previously, remastered) (2LP)
1.Outside (remastered) (2LP)
Earthling (remastered) (3 sided - 2LP)
'hours...' (remastered) (1LP)
BBC Radio Theatre, London, June 27, 2000 (remastered and expanded 20 track version, previously unreleased on vinyl) (3LP)*
Toy (previously unreleased) (3 sided - 2LP)
Re:Call 5 (non-album singles, edits, single versions, b-sides and soundtrack music) (remastered) (4LP)*
Exclusive to BRILLIANT ADVENTURE LP box