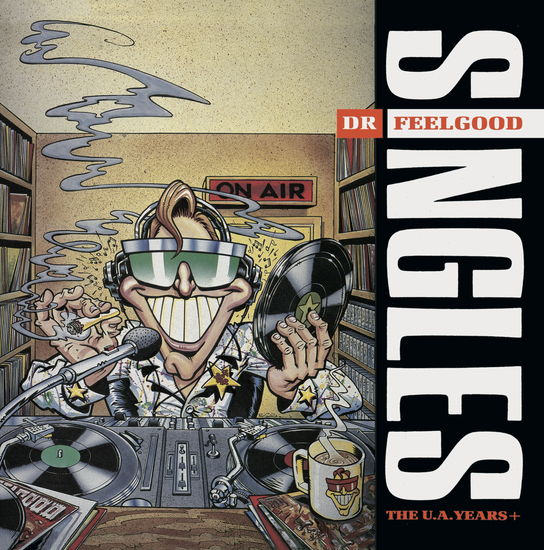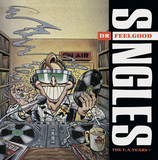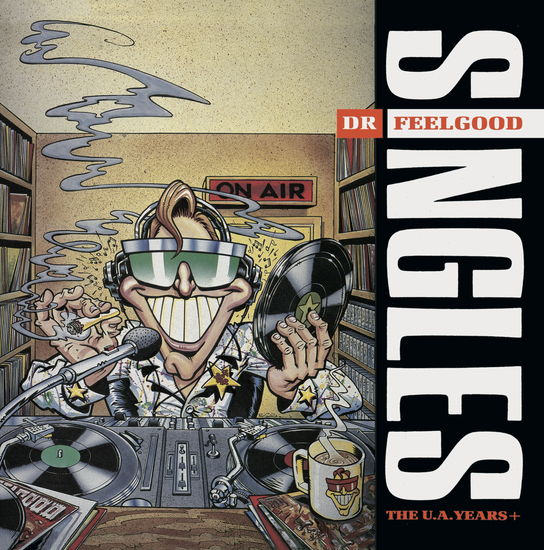 Dr. Feelgood
SINGLES – The U.A. Years
This special-edition recycled vinyl version is available exclusively on Rhino. The vinyl is made from 100% PVC recycled material, using waste material and clippings from previous pressings and are re-used. The result is that each vinyl is unique with its own color combination, which will resemble splatter or marble vinyl – providing a comparable sound to normal color vinyl. The color you receive is randomised, and the pictures above are a representation of the type of design you may receive.
Recycled vinyl vastly lowers CO2 output and prevents the unnecessary creation of new plastic.
SINGLES - THE U.A. YEARS is a celebration of 26 tracks of Dr. Feelgood at their absolute peak. Having formed in 1971 in Essex, founding members Lee Brilleaux (singer), John B. Sparks (Sparko) on bass guitar, John Martin (The Big Figure) on drums and guitarist Wilko Johnson, whose iconic and renowned choppy style of playing saw the band build huge notoriety in London's live music scene resulting in a record deal with US Artists in 1974.
That year, Dr. Feelgood released their debut single "Roxette," alongside other single "She Does It Right," penned the night before a BBC Radio One Top Gear session. Both were included on their debut record - the iconic "Down By The Jetty" that was met with huge acclaim and has since been noted by artists including Paul Weller, Bob Geldof, Blondie and The Ramones as having a huge impact on their careers.
The bands popularity grew, and their notoriety expanded as they continued playing live as well as writing. 1975 saw the singles "Back In The Night" and "Going Back Home," alongside breaking into the UK Top 20 with their subsequent album "Malpractice." Following this success, the band went on a UK headline tour, as well as a "Speeding Through Europe" tour, cementing the band's success on the continent. This was followed up by their live album "Stupidity" reaching number one in the UK Albums Chart.
Following the release of minor hit "Sneakin' Suspicion" alongside the album of the same name, Wilko Johnson left the band and was replaced by John 'Gypie' Mayo. Under the new variation of the band, it yielded hits such as "She's A Wind Up," "Down At The Doctors" and the Dr. Feelgood classic "Milk And Alcohol," the top 10 single written by Gypie Mayo and Nick Lowe.
Subsequently throughout 1979 and 1980, the band released various singles such as "Put Him Out Of Your Mind," "Hong Kong Money" and "Violent Love." However, the year ended with Gypie Mayo leaving the band, with Johnny Guitar and Gordon Russell joining the latest form of the band. This led to the singles such as "Crazy About Girls" and "Monkey." Changes in the band's personnel continued, with founding members John B. Sparks (Sparko) and John Martin (The Big Figure) also departing.
Lee Brilleaux temporarily disbanded Dr. Feelgood in 1982 and started from scratch again, rehiring Gordon Russell, as well as Phil Mitchell on bass and Kevin Morris on drums. This new line-up were Dr. Feelgood's most stable yet, leading to singles such as "Mad Man Blues" and "Don't Wait Up," the latter of which received significant airplay.