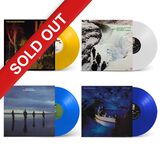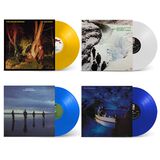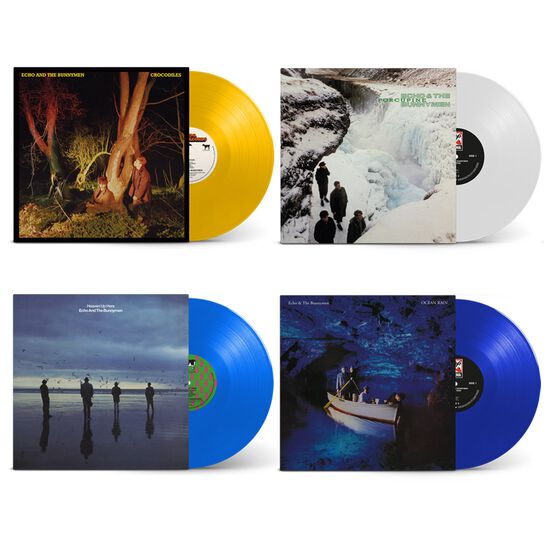 Echo & The Bunnymen
Exclusive Colour Vinyl Bundle
Pre-order included
Availability:
This item is currently not available
This Bundle contains:
Crocodiles (1LP Yellow)
Heaven Up Here (1LP Light Blue)
Porcupine (1LP White)
Ocean Rain (1LP Dark Blue)
Echo & The Bunnymen were formed in Liverpool in 1978 with Ian McCulloch on vocals and rhythm guitar, Will Sergeant on lead guitar and Les Pattinson on bass. They were soon joined by Pete De Freitas on drums and the rest, as they say, is history.
The band's first release was the 7" single Pictures on My Wall with the B-side Read It in Books on Zoo Records in 1979. Pictures on My Wall would appear on their classic debut album Crocodiles in 1980. Released amidst the growing wave of post-punk, Crocodiles cemented the band's reputation as one of the best around with the NME describing it as "probably the best album this year by a British band". The album ultimately broke into the Top 20, finishing in many critics greatest ever debut album lists.
The Bunnymen followed the album with the release of the Shine So Hard EP in 1981, recorded live at the Pavilion Gardens in Buxton, before releasing their second studio album Heaven Up Here in the same year. It became the band's first UK Top 10 album, winning the 1981 NME Best Album award in the process. Considered to be a slightly darker album, Heaven Up Here was produced by Hugh Jones and was well received by critics and fans alike, featuring tracks such as A Promise, Over the Wall and Show of Strength.
The band's cult status was soon transformed into mainstream success in 1983 with the release of their third album Porcupine, produced by Ian Broudie. Porcupine provided their best chart performances, with The Cutter reaching #8 in the singles charts and Porcupine finishing #2 in the album charts before being certified Gold.
1984 brought the fourth studio album Ocean Rain, regarded by many as the band's classic opus. Recorded in Liverpool and Paris, the band used a 35-piece orchestra with award winning composer Adam Peters scoring the strings. The iconic, atmospheric cover artwork was taken in the stunning Carnglaze Caverns in Cornwall by photographer Brian Griffin, who also shot their three previous album covers. Ocean Rain continued the band's use of strings, creating a dark, ethereal aura. Three classic singles were released from the album – Silver, Seven Seas and the massive anthem The Killing Moon, which reached #9 in the UK singles chart and continues to transcend generations to this day.
Side A
1. Going Up
2. Stars Are Stars
3. Pride
4. Monkeys
5. Crocodiles
Side B
1. Rescue
2. Villiers Terrace
3. Pictures On My Wall
4. All That Jazz
5. Happy Death Men
Heaven Up Here (1LP Light Blue)
Side A
1. Show Of Strength
2. With A Hip
3. Over The Wall
4. It Was A Pleasure
5. A Promise
Side B
1. Heaven Up Here
2. The Disease
3. All My Colours
4. No Dark Things
5. Turquoise Days
6. All I Want
Porcupine (1LP White)
Side A
1. The Cutter
2. Back Of Love
3. My White Devil
4. Clay
5. Porcupine
Side B
1. Heads Will Roll
2. Ripeness
3. Higher Hell
4. Gods Will Be Gods
5. In Bluer Skies
Ocean Rain (1LP Dark Blue)
Side A
1. Silver
2. Nocturnal Me
3. Crystal Days
4. The Yo Yo Man
5. Thorn Of Crowns
Side B
1. The Killing Moon
2. Seven Seas
3. My Kingdom
4. Ocean Rain