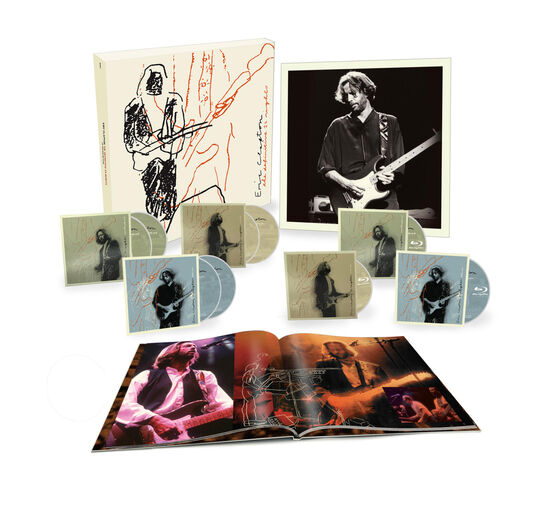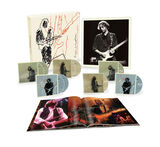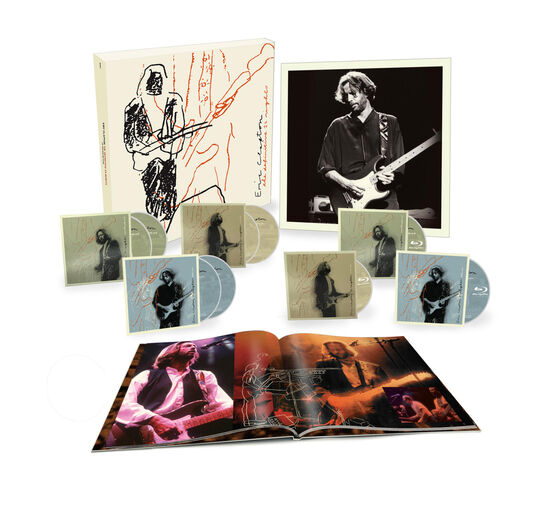 Eric Clapton
The Definitive 24 Nights (Super Deluxe CD Set) (6CD)
6 CDs
24 Nights: Rock (2 CDs)
24 Nights: Blues (2 CDs)
24 Nights: Orchestral (2 CDs)
13" x 13" Telescoping Box
3 Blu-rays (1 BD each for the Rock, Blues and Orchestral Concerts)
48-Page Hard Bound Book
12" x 12" Lithograph; Individually Numbered

In 1990 and 1991 Eric Clapton performed 42 nights at the Royal Albert Hall in London; 18 shows in 1990 and 24 in 1991. During the run of these shows Clapton performed with three different line-ups: a rock band, a blues band, and an orchestra. The huge undertaking of rehearsing for performances of three distinctly different genres and set lists was made more challenging by the rock show line-ups varying from 4, 9 or 13 band members. Guest musicians included Buddy Guy, Albert Collins, Robert Cray and Phil Collins. The orchestra was conducted by the late Michael Kamen.

Many of the performances were filmed and recorded and the huge amount of audio and film material has been painstakingly restored and the quality upgraded. These deluxe re-issues are greatly expanded compared to the original 1991 release with a wealth of previously unreleased material. The set lists featured songs from Clapton's career up to that time, including stunning orchestral and rock performances of "Layla," "Sunshine of Your Love," "Wonderful Tonight," "White Room," "Can't Find My Way Home," and "Crossroads." Other highlights are "Knockin' On Heaven's Door," "No Alibis," "Bell Bottom Blues," "Edge of Darkness," and the recorded debut of the 30-minute Michael Kamen composition "Concerto For Electric Guitar." The 14-song blues set features "Key To The Highway," "Sweet Home Chicago," "Watch Yourself,"" and "Black Cat Bone."

THE DEFINITIVE 24 NIGHTS LIMITED-EDITION DELUXE BOXED SETS include a full concert on audio and film of each genre: Rock, Blues and Orchestral. 47 songs, almost 6 hours of music on 6 CDs or 8 LPs and 3 Blu-rays. The Blu-rays are exclusive to these box sets that also contain a hard bound book and an individually numbered lithograph.
THE DEFINITIVE 24 NIGHTS (DELUXE EDITION) SUPER DELUXE CD BOX TRACK LISTING
Rock Show
1. Pretending**
2. Running On Faith**
3. Breaking Point
4. I Shot The Sheriff (Feat. Phil Collins on drums)
5. White Room**
6. Can't Find My Way Home (Feat. Nathan East on lead vocals)
7. Bad Love**
8. Before You Accuse Me
9. Lay Down Sally
10. Knockin' On Heaven's Door (Feat. Phil Collins on drums)
11. Old Love
12. No Alibis (This version was released as a B-side of the single "Wonderful Tonight")
13. Tearing Us Apart
14. Cocaine
15. Wonderful Tonight**
16. Layla
17. Crossroads
18. Sunshine Of Your Love
Blues Show
1. Key To The Highway
2. Worried Life Blues**
3. Watch Yourself**
4. Have You Ever Loved A Woman**
5. Everything's Gonna Be Alright
6. Something On Your Mind
7. All Your Love (I Miss Loving)
8. It's My Life Baby
9. Johnnie's Boogie
10. Black Cat Bone
11. Reconsider Baby
12. My Time After A While
13. Sweet Home Chicago
14. Watch Yourself (Reprise)
Orchestral Show
1. Crossroads
2. Bell Bottom Blues**
3. Lay Down Sally
4. Holy Mother
5. I Shot The Sheriff
6. Hard Times**
7. Can't Find My Way Home (Feat. Nathan East on lead vocals)
8. Edge Of Darkness**
9. Old Love
10. Wonderful Tonight
11. White Room
12. Concerto For Electric Guitar (30 min piece, composed by Michael Kamen for Eric. Previously
unreleased)
13. A Remark You Made (A tribute to Jaco Pastorius)
14. Layla
15. Sunshine Of Your Love
All tracks have been remixed and the audio has been upgraded and remastered.
** (on 1991 CD release)