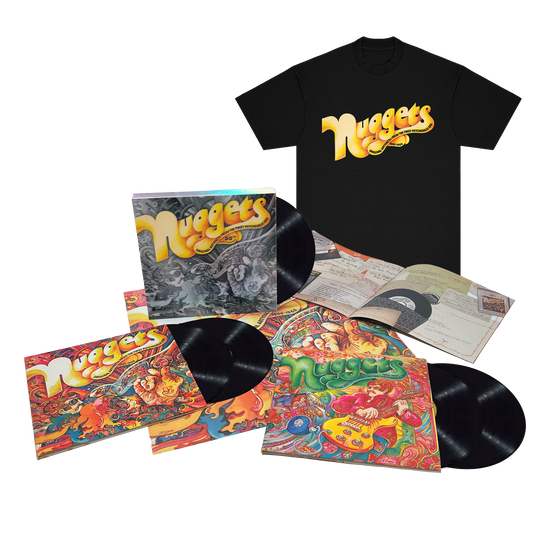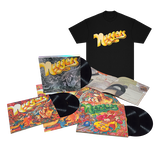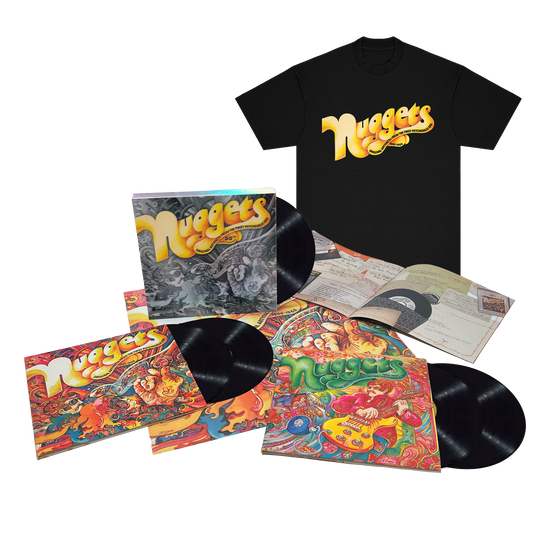 Pre-order included
Availability:
Select Styles for Availability
Bundle Includes:

Original Artyfacts From the First Psychedelic Era (1965-1968)[50th Anniversary] -
Limited 10,000 Numbered Copies
Nuggets Black T-Shirt

Originally released in October 1972, NUGGETS focused on the first generation of American psychedelic and garage rock bands. It unearthed dozens of three-minute masterpieces that blazed brightly for a few weeks before fading from the charts during the mid-to-late 1960s. The seminal compilation defined the garage rock genre and helped inspire the rise of punk rock a few years later.

Kaye compiled the 27 tracks featured on the original double album under the supervision of Elektra Records' founder, Jac Holzman. Both were involved in making the NUGGETS: 50th ANNIVERSARY EDITION, which contains new liner notes and artist biographies written by Kaye.

NUGGETS: 50th ANNIVERSARY EDITION expands the original with 42 additional tracks. They include songs left off the 1972 collection, plus tracks Kaye selected for a second volume of NUGGETS that was never released.

In 1973, Kaye earmarked 28 songs for a potential NUGGETS follow-up. At long last, his vision will be realized on NUGGETS: 50th ANNIVERSARY EDITION. The songs fill two LPs and include Top 40 hits like "96 Tears" by ? & The Mysterians, "Do You Believe In Magic" by The Lovin' Spoonful, "7 And 7 Is" by Love, "Little Bit O' Soul" by The Music Explosion, "Little Girl" by Syndicate of Sound, and "Laugh, Laugh" by Beau Brummels.

The collection's final LP (dubbed ALSO DUG-ITS, ARTYFACTS FROM THE ORIGINAL NUGGETS) revisits 14 songs cut from the 1972 anthology. Among the highlights are "I'm Five Years Ahead Of My Time" by The Third Bardo, "The Spider And The Fly" by The Monocles, "99th Floor" by The Moving Sidewalks (featuring future ZZ Top guitarist Billy Gibbons), and "Crazy Like A Fox" by Link Cromwell, aka Lenny Kaye.

5-LP Track Listing

LP One: Original Album
Side One
1. "I Had Too Much To Dream (Last Night)" – The Electric Prunes
2. "Dirty Water" – The Standells
3. "Night Time" – The Strangeloves
4. "Lies" – The Knickerbockers
5. "Respect" – The Vagrants
6. "A Public Execution" – Mouse
7. "No Time Like The Right Time" – The Blues Project

Side Two
1. "Oh Yeah" – The Shadows Of Knight
2. "Pushin' Too Hard" – The Seeds
3. "Moulty" – The Barbarians
4. "Don't Look Back" – The Remains
5. "An Invitation To Cry" – The Magicians
6. "Liar, Liar" – The Castaways
7. "You're Gonna Miss Me" – The Thirteenth Floor Elevators

LP Two: Original Album
Side One
1. "Psychotic Reaction" – Count Five
2. "Hey Joe" – The Leaves
3. "Romeo & Juliet" – Michael & The Messengers
4. "Sugar And Spice" – The Cryan Shames
5. "Baby Please Don't Go" – The Amboy Dukes
6. "Tobacco Road" – Blues Magoos

Side Two
1. "Let's Talk About Girls" – Chocolate Watch Band
2. "Sit Down, I Think I Love You" – The Mojo Men
3. "Run, Run, Run" – The Third Rail
4. "My World Fell Down" – Sagittarius
5. "Open My Eyes" – Nazz
6. "Farmer John" – The Premiers
7. "It's-A-Happening" – The Magic Mushrooms

LP Three: Nuggets, Vol. 2: Original Artyfacts From The First Psychedelic Era, 1965-1968
Side One
1. "Do You Believe In Magic" – The Lovin' Spoonful
2. "7 And 7 Is" – Love
3. "Little Girl" – Syndicate Of Sound
4. "A Question Of Temperature" – The Balloon Farm
5. "Double Shot (Of My Baby's Love)" – Swingin' Medallions
6. "Action Woman" – The Litter
7. "Talk Talk" – Music Machine

Side Two
1. "I See The Light" – The Five Americans
2. "96 Tears" – ? & The Mysterians
3. "Open Up Your Door" – Richard & The Young Lions
4. "Laugh, Laugh" – Beau Brummels
5. "Stop! - Get A Ticket" – Clefs Of Lavender Hill
6. "I Cannot Stop You" – The Cherry Slush
7. "Frustration" – The Mystic Tide

LP Four: Nuggets, Vol. 2: Original Artyfacts From The First Psychedelic Era, 1965-1968
Side One
1. "Run, Run, Run" – The Gestures
2. "It's Cold Outside" – The Choir
3. "Free As The Wind" – The Myddle Class
4. "Whatcha Gonna Do About It" – The Evil
5. "What A Way To Die" – The Pleasure Seekers
6. "Road Runner" – The Gants
7. "A Little Bit Of Soul" – The Music Explosion

Side Two
1. "Black On White" – The North Atlantic Invasion Force
2. "Dance, Franny, Dance" – Floyd Dakil Combo
3. "Going All The Way" – The Squires
4. "You Must Be A Witch" – The Lollipop Shoppe
5. "The Witch" – The Sonics
6. "Blackout Of Gretely" – Gonn
7. "The Spider And The Fly" – The Monocles

LP Five: Also Dug-Its, Artyfacts From The Original Nuggets
Side One
1. "Put The Clock Back On The Wall" – The "E" Types
2. "99th Floor" – The Moving Sidewalks
3. "Milkweed Love" – Lothar And The Hand People
4. "Don't Tie Me Down" – Anthony & The Imperials
5. "Drop Out!" – Pearls Before Swine
6. "I Won't Hurt You" – West Coast Pop Art Experimental Band

Side Two
1. "It's A Happening Thing" – The Peanut Butter Conspiracy
2. "Leavin' Here" – The Rationals
3. "Yellow Balloon" – The Yellow Balloon
4. "Crazy Like A Fox" – Link Cromwell
5. "Been Burnt" – Luke & The Apostles
6. "The First Cut Is The Deepest" – The Koobas
7. "Goin' Back To Miami" – Wayne Cochran
8. "I'm Five Years Ahead Of My Time" – The Third Bardo