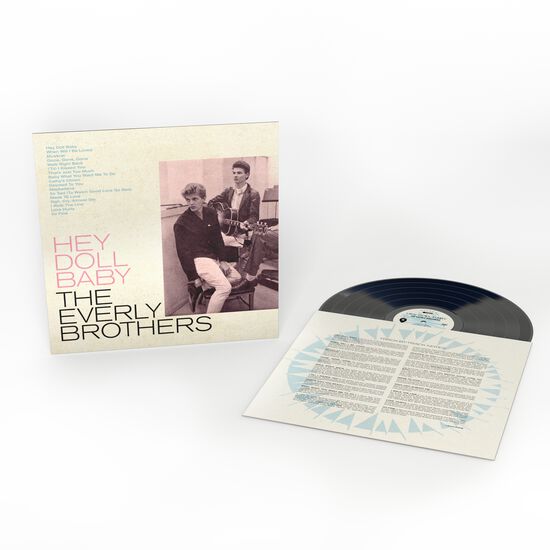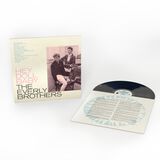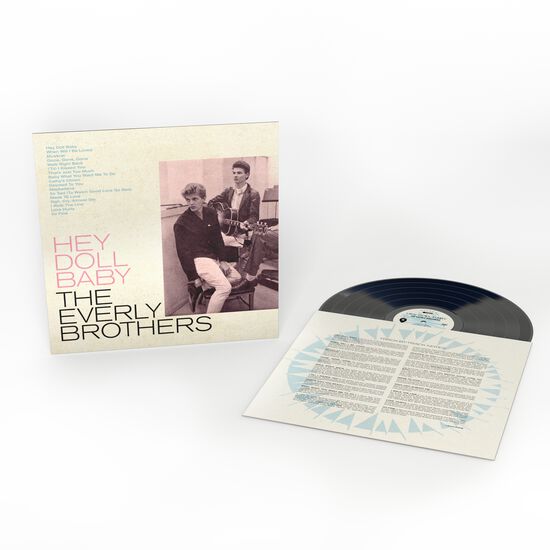 The Everly Brothers
Hey Doll Baby (LP)
HEY DOLL BABY is a newly remastered 17-track compilation that collects some of the lesser-known, buried treasures in the Everly Brothers' rich catalog with songs assembled by Adria Petty, Tom Petty's daughter, who worked closely with both Everly families on the project, with help from Phil's widow Patti and son Jason, who provided track-by-track commentary for the liner notes, as well as Don Everly, prior to his passing last summer, and his widow Adela. HEY DOLL BABY holds the bittersweet distinction of being the final project Don worked on.
HEY DOLL BABY explores The Everly Brothers' legacy by not revisiting their greatest hits. Petty explains: "This compilation was curated with an eye towards celebrating the deeper rockabilly tracks and some great covers, with a small emphasis on hits. Whether you are new to The Everly Brothers or are among the diehard fans, this is sequenced for a great listening experience. Put this record on and get transported to another time and place. It will leave you feeling better."
HEY DOLL BABY delivers on that promise with the swinging rockabilly of "Baby What You Want Me To Do" and the pure pop bliss of "Made To Love," along with choice covers of Johnny Cash's "I Walk The Line" and Chuck Berry's "Maybellene." The collection features four of the Everly's original Cadence recordings including the title track and the Top 10 hits "('Til) I Kissed You" (#4), "When Will I Be Loved" (#7), and "Devoted To You" (#10). The set also includes the #1 smash, "Cathy's Clown," which was the Everly Brothers' first Warner Bros. single in 1960, and the best-selling song of their career.
In the album's liner notes, Jason Everly provides insight into each song on the album, beginning the title track, "Hey Doll Baby," which was the last song on The Everly Brothers' 1957 self-titled debut. He writes: "Its classic Appalachian harmony mixed with rhythm & blues would become part of the brothers' signature sound, and with each strum of their infectious guitars, it's like they're pushing the song into becoming actual rock 'n' roll."
HEY DOLL BABY
Track Listing
"Hey Doll Baby"

"When Will I Be Loved"

"Muskrat"

"Gone, Gone, Gone"

"Walk Right Back"

"('Til) I Kissed You"

"That's Just Too Much"

"Baby What You Want Me To Do"

"Cathy's Clown"

"Devoted To You"

"Maybellene"

"So Sad (To Watch Good Love Go Bad)"

"Made To Love"

"Sigh, Cry, Almost Die"

"I Walk The Line"

"Love Hurts"