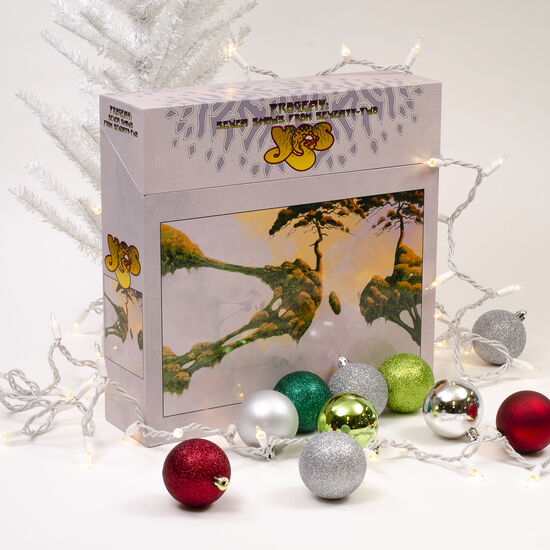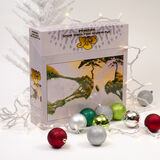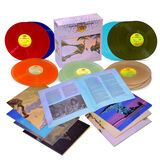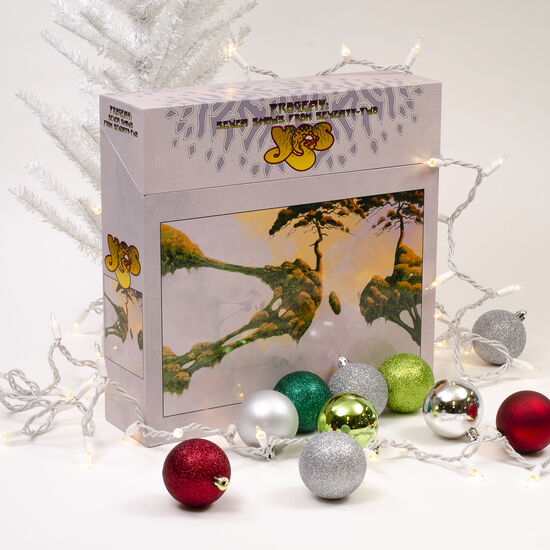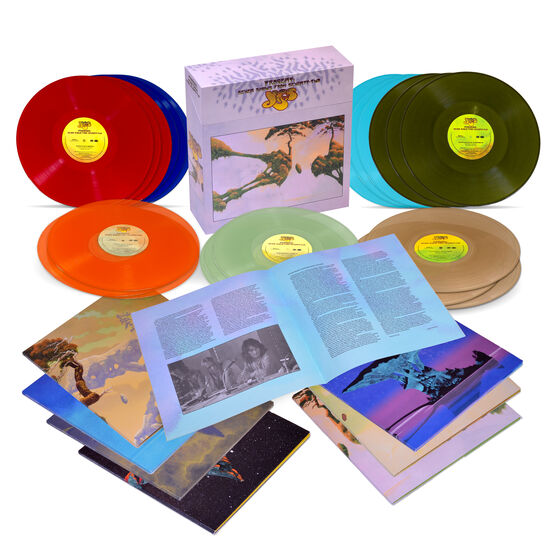 Yes
Progeny: Seven Shows From Seventy-Two (21LP)
Price reduced from

$474.98

to
$284.99
Rhino.com Exclusive
Limited To 1,972 Numbered Copies
Free U.S. Shipping

Yes was firing on all cylinders in the fall of 1972. The prog-rock pioneers' fifth studio album CLOSE TO THE EDGE was a smash success as audiences around the world packed arenas to see the legendary group perform. The band captured the magic of that tour on its first live album, Yessongs. Released in 1973, the triple-LP sold over a million copies and blew minds with Roger Dean's iconic artwork.

In 2015, seven complete concerts from the weeks leading up to the shows heard on Yessongs were assembled in the 14-CD boxed set PROGENY: SEVEN SHOWS FROM SEVENTY-TWO. On December 2, the boxed set will make its vinyl debut in a monumental 21-LP version.

PROGENY: SEVEN SHOWS FROM SEVENTY-TWO holds every note from all seven shows, recorded in the fall of 1972 as the band's tour jumped from Canada to North Carolina, and then Georgia and Tennessee, before their last stop in New York at Nassau Coliseum on November 20. This comprehensive set comes in a cigarette-style flip top box with artwork by Dean and featuring each of the shows pressed on a different colored vinyl (ruby, orange crush, cobalt, soda bottle clear, tan, forest green, and electric blue). The collection is limited to 1,972 individually numbered copies and is available exclusively at Rhino.com.

PROGENY: SEVEN SHOWS FROM SEVENTY-TWO memorializes Yes' first tour with drummer Alan White, who sadly passed away earlier this year after 50 years in the band. He replaced Bill Bruford, who recorded Close To The Edge before leaving to join King Crimson. White only had three days to learn the band's live show before his first night on stage with Jon Anderson (vocals), Steve Howe (guitar), Chris Squire (bass) and Rick Wakeman (keyboards).

Recorded three months into the tour, these powerful performances attest to how quickly the new line-up came together musically as they navigate hits like "Roundabout," and complex pieces like "And You and I." Even though the setlist didn't vary much from night to night, the individual performances are strikingly different.
PROGENY: SEVEN SHOWS FROM SEVENTY-TWO
Track Listing:

Maple Leaf Gardens
Toronto, Ontario, Canada (10/31/72)
(Ruby Colored Vinyl)

Side A
1. "Opening (Excerpt from Firebird Suite)"
2. "Siberian Khatru"
3. "I've Seen All Good People"
a. "Your Move"
b. "All Good People"

Side B
1. "Mood For A Day/Clap"
2. "Heart Of The Sunrise"

Side C
1. "And You And I"
I. "Cord Of Life"
II. "Eclipse"
III. "The Preacher The Teacher"
IV. "Apocalypse"

Side D
1. "Close To The Edge"
I. "The Solid Time Of Change"
II. "Total Mass Retain"
III. "I Get Up I Get Down"
IV. "Seasons Of Man"

Side E
1. "Excerpts From 'The Six Wives Of Henry VIII'"
2. "Roundabout"

Side F
1. "Yours Is No Disgrace"


Ottawa Civic Centre
Ottawa, Ontario, Canada (11/01/72)
(Orange Colored Vinyl)

Side A
1. "Opening (Excerpt from Firebird Suite)"
2. "Siberian Khatru"
3. "I've Seen All Good People"
a. "Your Move"
b. "All Good People"

Side B
1. "Heart Of The Sunrise"
2. "Mood For A Day/Clap"


Side C
1. "And You And I"
I. "Cord Of Life"
II. "Eclipse"
III. "The Preacher The Teacher"
IV. "Apocalypse"

Side D
1. "Close To The Edge"
I. "The Solid Time Of Change"
II. "Total Mass Retain"
III. "I Get Up I Get Down"
IV. "Seasons Of Man"

Side E
1. "Excerpts From 'The Six Wives Of Henry VIII'"
2. "Roundabout"

Side F
1. "Yours Is No Disgrace"


Duke University
Durham, North Carolina (11/01/72)
(Cobalt Colored Vinyl)

Side A
1. "Opening (Excerpt from Firebird Suite)"
2. "Siberian Khatru"
3. "I've Seen All Good People"
a. "Your Move"
b. "All Good People"

Side B
1. "Heart Of The Sunrise"
2. "Mood For A Day/Clap"

Side C
1. "And You And I"
I. "Cord Of Life"
II. "Eclipse"
III. "The Preacher The Teacher"
IV. "Apocalypse"

Side D
1. "Close To The Edge"
I. "The Solid Time Of Change"
II. "Total Mass Retain"
III. "I Get Up I Get Down"
IV. "Seasons Of Man"

Side E
1. "Excerpts From 'The Six Wives Of Henry VIII'"
2. "Roundabout"

Side F
1. "Yours Is No Disgrace"


Greensboro Coliseum
Greensboro, North Carolina (11/12/72)
(Soda Bottle Clear Colored Vinyl)

Side A
1. "Opening (Excerpt from Firebird Suite)"
2. "Siberian Khatru"
3. "I've Seen All Good People"
a. "Your Move"
b. "All Good People"

Side B
1. "Heart Of The Sunrise"
2. "Clap/Mood For A Day"

Side C
1. "And You And I"
I. "Cord Of Life"
II. "Eclipse"
III. "The Preacher The Teacher"
IV. "Apocalypse"

Side D
1. "Close To The Edge"
I. "The Solid Time Of Change"
II. "Total Mass Retain"
III. "I Get Up I Get Down"
IV. "Seasons Of Man"

Side E
1. "Excerpts From 'The Six Wives Of Henry VIII'"
2. "Roundabout"

Side F
1. "Yours Is No Disgrace"


University of Georgia
Athens, Georgia (11/14/72)
(Tan Colored Vinyl)


Side A
1. "Opening (Excerpt from Firebird Suite)"
2. "Siberian Khatru"
3. "I've Seen All Good People"
a. "Your Move"
b. "All Good People"

Side B
1. "Heart Of The Sunrise"
2. "Clap/Mood For A Day"

Side C
1. "And You And I"
I. "Cord Of Life"
II. "Eclipse"
III. "The Preacher The Teacher"
IV. "Apocalypse"

Side D
1. "Close To The Edge"
I. "The Solid Time Of Change"
II. "Total Mass Retain"
III. "I Get Up I Get Down"
IV. "Seasons Of Man"

Side E
1. "Excerpts From 'The Six Wives Of Henry VIII'"
2. "Roundabout"

Side F
1. "Yours Is No Disgrace"


Knoxville Civic Auditorium
Knoxville, Tennessee (11/15/72)
(Forest Green Colored Vinyl)

Side A
1. "Opening (Excerpt from Firebird Suite)"
2. "Siberian Khatru"
3. "I've Seen All Good People"
a. "Your Move"
b. "All Good People"

Side B
1. "Heart Of The Sunrise"
2. "Mood For A Day/Clap"

Side C
1. "And You And I"
I. "Cord Of Life"
II. "Eclipse"
III. "The Preacher The Teacher"
IV. "Apocalypse"

Side D
1. "Close To The Edge"
I. "The Solid Time Of Change"
II. "Total Mass Retain"
III. "I Get Up I Get Down"
IV. "Seasons Of Man"

Side E
1. "Excerpts From 'The Six Wives Of Henry VIII'"
2. "Roundabout"

Side F
1. "Yours Is No Disgrace"


Nassau Veterans Memorial Coliseum
Uniondale, New York (11/20/72)
(Electric Blue Colored Vinyl)

Side A
1. "Opening (Excerpt from Firebird Suite)"
2. "Siberian Khatru"
3. "I've Seen All Good People"
a. "Your Move"
b. "All Good People"

Side B
1. "Heart Of The Sunrise"
2. "Mood For A Day/Clap"

Side C
1. "And You And I"
I. "Cord Of Life"
II. "Eclipse"
III. "The Preacher The Teacher"
IV. "Apocalypse"

Side D
1. "Close To The Edge"
I. "The Solid Time Of Change"
II. "Total Mass Retain"
III. "I Get Up I Get Down"
IV. "Seasons Of Man"

Side E
1. "Excerpts From 'The Six Wives Of Henry VIII'"
2. "Roundabout"

Side F
1. "Yours Is No Disgrace"