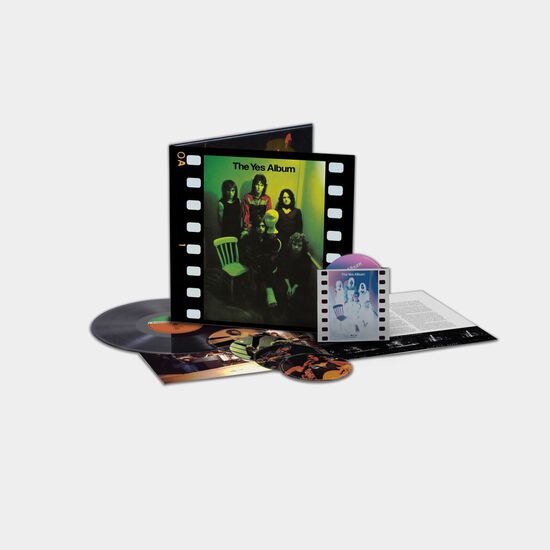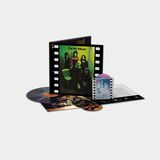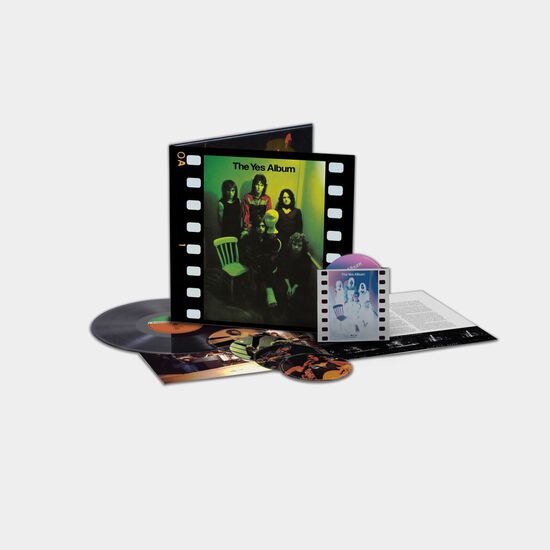 Yes
The Yes Album (Super Deluxe Edition)
Price reduced from

$99.98

to
$84.98
Remastered Sound, Rarities, Two Previously Unreleased Concerts, And A New Dolby Atmos Mix By Steven Wilson
"The Yes Album represents to me the invention of 70's Yes. This was aided by leaving outside material off the record and heavily investing in the influences we brought together, particularly the arrangement skills and utilizing the available best technology.
Our adventurism shows in the originality of the music and lyrics, as none of us had done anything quite like this before. " - Steve Howe
"It's wonderful to know that 50 years later our music is still appreciated. It was a "make or break" time for the band on many levels. The harmony within the band was really special at that time, and it came through in the music." - Jon Anderson
Take a deep dive into Yes' third studio album with a boxed set that presents a newly remastered version of THE YES ALBUM expanded with rarities, two previously unreleased concerts, and fresh mixes by Steven Wilson, including an immersive Dolby Atmos Mix.
THE YES ALBUM (SUPER DELUXE EDITION) includes Steven Wilson's newly remastered version of the original album on both CD and LP. Two previously unreleased concerts from 1971 will debut in the set as well. The first was recorded just a few weeks before THE YES ALBUM was released, while the second was recorded six months later during the band's U.S. tour. These remarkable performances include live versions of songs from the album, such as "Yours Is No Disgrace" and "Perpetual Change," as well as "Astral Traveller" and "Everydays" from the previous album, TIME AND A WORD (1970).
Wilson features the 2014 remixed THE YES ALBUM and instrumental versions of all six album tracks in the upcoming SUPER DELUXE EDITION. In addition, the Blu-ray disc offers four new mixes of THE YES ALBUM, including two versions in 5.1 Surround Sound, the 2023 Remaster, and the Dolby Atmos Mix.
Initially released in the U.K. on February 19, 1971, it was the group's - Jon Anderson, Chris Squire, Tony Kaye, Bill Bruford, and Steve Howe - first album to feature all-original material and introduced signature epics like "Starship Trooper" and "I've Seen All Good People." The album peaked at No.4 in the U.K. and was the group's first to crack the Top 40 in the U.S., where it would eventually be certified platinum.
LP1: Original Analogue Cut
Side one
1. Yours Is No Disgrace
2. Clap (instrumental)
3. Starship Trooper
a. Life Seeker
b. Disillusion
c. Würm
Side two
1. I've Seen All Good People
a. Your Move
b. All Good People
2. A Venture
3. Perpetual Change

CD1: Original Album
1. Yours is No Disgrace
2. The Clap
3. Starship Trooper
4. I've Seen All Good People
5. A Venture
6. Perpetual Change
CD2: Steven Wilson Remix / Steven Wilson Remix Instrumentals
1. Yours is No Disgrace (Steven Wilson Remix)
2. The Clap (Steven Wilson Remix)
3. Starship Trooper (Steven Wilson Remix)
4. I've Seen All Good People (Steven Wilson Remix)
5. A Venture (Steven Wilson Remix)
6. Perpetual Change (Steven Wilson Remix)
7. Yours is No Disgrace (Steven Wilson Remix) [Instrumental]
8. The Clap (Steven Wilson Remix) [Instrumental]
9. Starship Trooper (Steven Wilson Remix) [Instrumental]
10. I've Seen All Good People (Steven Wilson Remix) [Instrumental]
11. A Venture (Steven Wilson Remix) [Instrumental]
12. Perpetual Change (Steven Wilson Remix) [Instrumental]
CD3: Rarities
1. Your Move (Single Version)
2. Starship Trooper (Single Version)
3. Clap (Studio Version)
4. Yours is No Disgrace (Mono Mix)
5. The Clap (Mono Mix)
6. Starship Trooper (Mono Mix)
7. I've Seen All Good People (Mono Mix)
8. A Venture (Mono Mix)
9. Perpetual Change (Mono Mix)
10. Starship Trooper (Alternate Take)***
11. Untitled Instrumental ***
CD4: Live
1. Astral Traveller (Live at Konserthuset, Gothenburg, Sweden, January 21, 1971) ***
2. Everydays (Live at Konserthuset, Gothenburg, Sweden, January 21, 1971) ***
3. Yours in No Disgrace (Live at The Yale Bowl, New Haven, CT, July 24, 1971) ***
4. Your Move (Live at The Yale Bowl, New Haven, CT, July 24, 1971) ***
5. I've Seen All Good People (Live at The Yale Bowl, New Haven, CT, July 24, 1971) ***
6. The Clap/Classical Gas (Live at The Yale Bowl, New Haven, CT, July 24, 1971) ***
7. Perpetual Change (Live at The Yale Bowl, New Haven, CT, July 24, 1971) ***
*** [Previously Unreleased]

Blu Ray: Steven Wilson Atmos Mix
1. Yours is No Disgrace
2. The Clap
3. Starship Trooper
4. I've Seen All Good People
5. A Venture
6. Perpetual Change